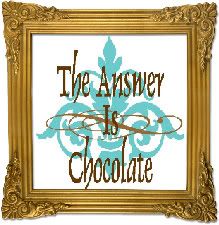 I am honored this week because Carol from The Answer Is Chocolate
has chosen ME to be her BFF of the week!!!
If you've never been over to Carol's blog, you should go!!! She has an awesome link party every Friday (known as Blog Feature Friday and Open House... BFF, get it) and she has some really amazing projects. (Plus she's a Pacific Northwest girl, just like me!)
So head on over to The Answer Is Chocolate link party HERE and link up some of your own amazing projects, and let Carol know I sent ya!